Dotwork yantra tattoo by Rks Tattoo studio Goa India.
A dotwork yantra tattoo is a tattoo design that features a traditional Hindu yantra symbol created using dotwork technique. Dotwork is a style of tattooing that uses small dots to create intricate and detailed designs.
Rks Tattoo Studio in Goa, India is known for their expertise in dot work tattoos and is a popular destination for those seeking this style of tattoo. The studio is run by tattoo artist Mukesh Tupkar who has over a decade of experience in the industry and is well-known for his skill in dot work.
A yantra tattoo is a spiritual symbol that is believed to have special powers and significance in Hinduism. It is often used as a form of meditation and is said to bring peace, prosperity, and protection to the wearer.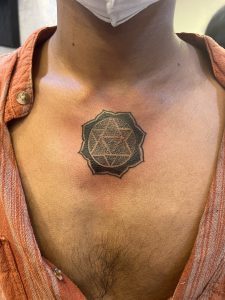 If you are interested in getting a dot work yantra tattoo, it's important to do your research and find a reputable tattoo artist who specializes in this style. You can also browse rkstattoo.com galleries and social media pages to get inspiration for your design and to see examples of the artist's previous work.